Clermont: A Town Rich in History and Strong in Spirit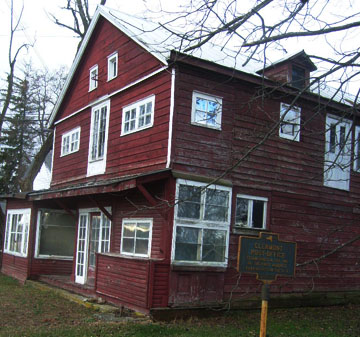 by Jessica Kahle
from the Hudson River Sampler, January 2012
Clermont is a small town in southern Columbia County that often goes unnoticed, but this town with its beautiful mountain scenery and Hudson River views is more than just a small town – it is a place of early American history. The Clermont Estate, from which the town of Clermont received its name, is from the French actually meaning "clear mountain" because of the view of the Catskill Mountains. The estate was built in 1730.
In 1686 the King of England granted the Livingston family 160,000 acres that became known as the Livingston Manor or Clermont Estate. Robert Livingston Jr., who was a member of a well known family in the days of the revolution and a signer of the Declaration of Independence, built up Clermont in the mid 1700's. Though, under the British troops during the Revolutionary War, Clermont underwent the devastation of being burnt in 1777. After fleeing the perilous effects of the British influence, Margaret Livingston returned to Clermont and went about the process of rebuilding.
Clermont is like a town version of other historical areas such as Boston and Philadelphia. The famous steamboat of Robert Fulton was named after Clermont and had its port of registry here as well. Robert Livingston, or The Chancellor, as he was called because he held that position of highest judicial officer in New York State, administered the oath of office to George Washington. Clermont is also home of New York's first public school and its post office was one of the first hundred post offices in the United States. Another notable landmark is the picturesque and quaint St. Luke's Church sanctified in 1859.
Farms have been a part of Clermont since 1730. During the 1960's most of the land was farmland. There was a local Chapter of Dairymen's League Cooperative Association which had fifty-seven members forty years ago. Presently, many varieties of apples are grown locally and shipped to different areas of the U.S and even foreign nations, including South America and Iceland.
Throughout the years, Clermont has seen many generations of families, working together as a small community, and have stayed strong for over two hundred and eighty years of being a town. The spirit of America is truly portrayed and seen in this small town and the heart of American history lies within. May Clermont proceed and grow, not fading into just a memory, but instead contributing to future generations and riding on with time to experience more history.