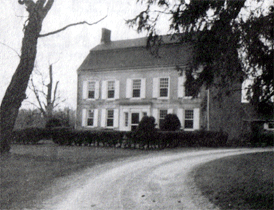 Master Craftsmen Restored Historic Clermont Home to Original Grandeur
By W.V. Miller, Columbia County Historian
Ten Broeck House at Clermont is typical of the Dutch-style architecture of early Hudson River homes. Said to have been built by Dirck Wessel Ten Broeck in 1762, it is now the residence of Mrs. C.C. Townsend.
A true lover of the antique, and endowed with the taste and knowledge so necessary to make the project a success, Mrs. Townsend was fortunate indeed to have the assistance of two men, members of that fast-vanishing group, the old-time master craftsmen who took pride in their work.
One of these men, Paul Poleschner of Clermont had the skill and ability, acquired over the years, that enabled him to repair, or duplicate, the many examples of the early blacksmith's art that were such essential parts of the old building.
Shutter tie-backs, hand wrought nails and hinges, and the manifold other fittings of like nature which now grace the house are, in many instances, products of this man's skill.
All carpenter work on the house was done by, or under the direction of, the late Philip H. Clum, of Clermont. This man, then nearing 80 years of age, was one of the few men still living at the time who was master of the skills and techniques of the old-time master woodworkers and carpenters.
The many repairs and restorations to the house were done by this man, or under his direct supervision. Mason work on the building was done by the late Charles Proper of Linlithgo, another master workman.